---
---
To find out where an image may have come from you can drop an image into the browse box at
tineye.com
. Many of the images on this page would be protected by copyright and are shown here under Fair Use as examples for self instruction.
Reverse Image Search
Search by Image:  Dropping an image from an image search into pop-up  area created when you start to drag an image will get more related INFORMATION about the picture.  Discovered when I was dragging images into Evernote from Google image searches.   You can drop any image into a Google Images search text area (has a camera to the right).   https://images.google.com  or   https://www.google.com/imghp?hl=en 
Also check out the TinEye Reverse Image Search, which also has drag-and-drop, but I really like the plug-in which is available to browsers, and there is also a Bookmarklet available as well. On an Android the bookmarklet would work in a browser, but the normal way would be to long-click on an image (equivalent of right-click) then on "Share Image" ᚛ and then click on "MB Search for TinEye" available from Play store (Android applications). On IOS (MAC) Photofile Free ties into TinEye using search.
---
---
Image Search:
https://images.google.com/
Body Parts
(composition),
•
Head
,
Hair
,
Face
, 
Eyes
, 
Ear
, 
Nose
, 
Mouth
,    
Lips
, 
Teeth
, 
Chin
, 
Neck
, 
•
Torso
, 
Shoulder
, 
Chest
, 
Belly
, 
Hips
, 
Buttocks
, 
•
Arm
, 
Skin
, 
Elbow
,    
Wrist
, 
Thumb
, 
Finger
, 
Finger-nail
, 
•
Leg
, 
Legs+Player
, 
Knee
, 
Ankle
, 
Feet
, 
Toenails
, Created some image searches for body parts, such as for  fingers and hands but wanted to create a more selective list for myself.   A Google image search can produce rather uniform sized images so that is a good starting point.  Then I dropped selected  images into
Evernote
(evernote.com) which is  designed for note taking, to arrange them to search within your notes for text and even text within pictures.  Being a WYSIWYG editor you can rearrange notes and images, so it is suited for gathering images into some presentable order.   Your Evernote notes are stored in the cloud so your notes are available to you from any device.  You notes are private but you can make them public.  Evernote also allows you to export to  HTML which I did for this example using File > Export > Export as a Single Webpage, two folders are created; one for the HTML and the other for the images.   Some of the image searches that may or may not have been used in the above:  (found out I had to convert outputted .png files to .jpg files to conserve space, completed with IrfanView).
fingers OR hands circle
fingers OR hands arrangement
Image bookmarklets: (enter search arguments into prompt box)
images: images:face (portraits) images:huge
Evernote (evernote.com) is available on your desktop (Windows, Mac, Unix, Android, IOS) as a stand-alone application, and in your Browser. It is a good place to store information and have it available anywhere on all your devices. There is Premium service, but the Free use includes adding up to 60MB per month. Best way to learn to use it is with the desktop application, which has better editing capability than you have on mobile devices.
---
Additional information if interested:
---
Google images does not rely on page content or humans to tag images. Google will recognize objects in an image. As you have seen face blurring in Google Streets view, even if the face is car headlights, or a poster on a bus.
This bookmarklet for the above, because of prompt will work in any browser and on Android, whether your preferred/available input is a keyboard, touch screen keyboard, or voice (to enter words)
javascript:s=prompt('Enter%20sought%20after%20images%20at%20Google%20Images:','');if(s!=null)%20%20%20location='https://www.google.com/images?hl=en&q='+escape(s);%20void%200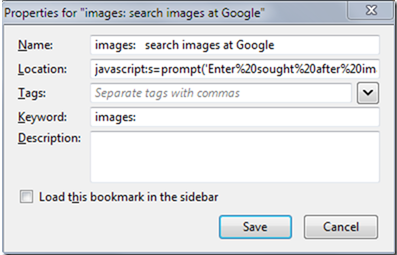 More information on bookmarklets and keyword shortcuts:
Training Computers to classify images: Classifications of images is no longer limited to text comments related to images or the pages they are on. Computers have been trained to recognize images and concepts. The best identifications derive from recognition and verifications between computer and human cooperation.
Searching in other Browsers: My experiences is mainly with Google, because I am comfortable with its options and keywords, but other browsers have also made big advances. So here are some very simple sample image searches without extra tags or keywords simply seaching on fingernails. You might note whether they assume real people and how well they fit, there are no exclusions in the following searches:
fingernails painted in google, bing, yahoo (images.search.yahoo.com)
In the case of yahoo trying to do a simple image search without involving cryptic parameters and what appears to be web fingerprints is nearly impossible. and did allow it to be a top images search.
---