Contest Entries for Digital Projection
Prepared for Somerset County Photography Club
this page: http://somersetcountyphotoclub.org/contests.htm
homepage: http://somersetcountyphotoclub.org/index.htm
Introduction (#intro)
Digital entry submissions is covered on this page. If you have never entered before you should try to get your pictures in a week ahead of time to make sure you know how, and to make sure you can get help, if needed. With the PhotoContest Pro software that we use there is no need for someone to collect entries and assemble them into a contest several days ahead of time. That part is automated. The deadline is midnight before the contest date. If you have a problem phone me.

Prints are judged separately and you can have three prints per contest, they are brought in on competition night and must have titles clearly marked on the back, your name must appear below the title. Prints should not be the same or similar to the projected contest images.

The PhotoContest Pro software now also provides the ability to conduct our Show and Tell and "Member Critique" ordered by member name and image title. The image title can be modified to include a two digit number in front so images will be in a desired order.

After signing in to PhotoContest Pro you may submit your images starting from the "Upload Pictures" menu:

Windows users may use the "Method 1" menu which requires Silverlight to be installed (Silverlight comes with later versions of Windows). This is the preferred method as it allows you to change title or rotate a picture after submission rather than having to delete the entry and resubmit. If you have a problem use the alternate upload method.

Mac users must use the alternate method "Method 2", which may also be used by anyone if Method 1 is not working for them.

Preparation of images before submission is described on the "Show and Tell" page, which includes tips on how to work with various software programs and how to include a border (usually called canvas) and is generally a white 3 pixel wide border.

The limit is 768 pixels on the long side for our club projector. PhotoContest Pro (PCP) will reduce slightly enlarged images from up to about 2000 on the long side, but probably not JPG images directly out of your camera, so best if you do that yourself. Images must be jpeg. It is recommended that you place a 1-3 pixel white border around the image. If the border is added to the outside (canvas), that would 762 pixels on long side before adding the border of 3 pixels.
Image Upload - Login (#login)
Digital uploads The projected image will be 768 pixels on the long side. The contest software starts with you logging in with your email address and club name. If you put "Som" into the club box that should fill in "Somerset County Camera Club" without having to use the drop down.
The web page upload program (right side) has wide latitude in resizing, anything uploaded with a long size between 700 and 2000 pixels should work fine, but it would be better if you resized first to 768 pixels on the long size before submitting.
Images must be submitted in JPEG (.jpg, jpeg) format.
If you have not used this software before or want a refresher on logging in please expand the following (JavaScript must be turned on in your browser).
Firefox usage problems (#problems)
additional information for users of the Firefox browser

►
Image Upload Service (#upload)
The Somerset County Photography Club has subscribed to the Image Upload Service at an additional charge to allow individual members of our club to upload their own images into a contest. This removes all the tedium that the contest coordinator has to go through collecting the images and entering them and the image information into PhotoContest Pro, and because we can't waste time at the meeting to load digital images.
Image Upload Service for Photographers (#uploadimages)
This procedure is available to all members of a club who have been entered on the website by the contest coordinator.

More complete login instructions can be expanded in the login section above and should be read at least once by all members.

The first thing you will need to do is go to the PhotoContest Pro website at http://www.PhotoContestPro.com. Log in by clicking on Login on the upper right corner of the screen. You will be asked for your email and password. If you don't know your password (this is your first time or you forgot it), click on the appropriate link to get it. Once you have your password, you should reset it to something that you'll remember. Click on Set Password on the upper right corner of the screen to set your password.

Once you are logged in, you will be presented with a screen listing all the open contests for your club.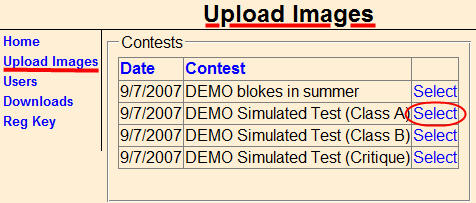 (Sorry about the changes in topics and photographer between these examples, hope it is clear how to work through the panels)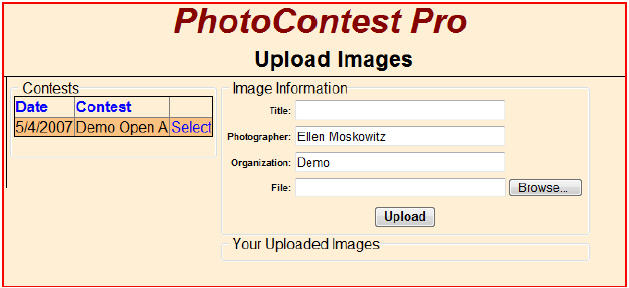 Click Browse on the Right-hand side of the screen to open your Image Explorer and locate your image. Note that images must be jpeg format and should be sized as per the instructions given by your contest coordinator. 768 on Long Side
Most Windows users will be better off installing the ContestPro upload application (left-side), which enables you to upload pictures, has better viewing options, and the ability to retitle, and to rotate picture once loaded. The upload application will not accept anything with a long side greater than 768 pixels, which is limit imposed with a 1024x768 projector so horizontal and vertical fit on a square screen without penalizing either orientation. Images must be submitted in JPEG (.jpg, jpeg) format.
The older webpage upload must be used by non Windows users (right-side). It has wide latitude in resizing, anything uploaded with a long size between 700 and 2000 pixels should work fine, but it would be better if you resized first to 768 pixels on the long size before submitting. Images must be submitted in JPEG (.jpg, jpeg) format.
Fill in the Title of your image. Your name and Organization will be automatically filled in. If you are entering images for another person, you can change the name and/or organization. Be careful to get this information correct as title will be displayed along with your image during the contest, and the photographer's name will be used in reporting winners.
For Method 1 dragging your image to the indicated box is easier than filling in the filename, though upload button and filename is still an option.
For Method 2 click the Upload button and wait for the upload to complete. This may take a few minutes depending on the speed of your internet connection.
Once you've uploaded one or more images, you will see that they are listed on the screen. You can get a small preview of the image by clicking on the Show link.
Delete an image by clicking the Delete link.
To change the Photographer or Title
If using Method 1 (preferred for Windows), you can change without deleting and resubmmitting an entry.
If using Method 2 (alternate method, and all Mac users), you must delete the image and upload it again to make changes to text.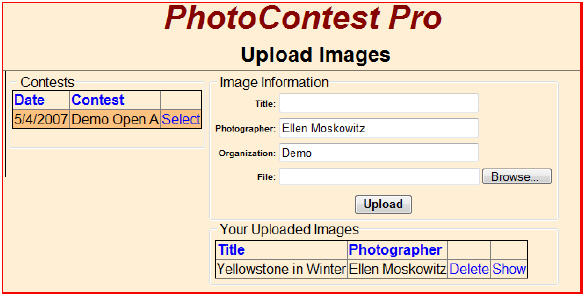 Note that only images that you have uploaded will be displayed here. You will not see images that others have uploaded, even if they are yours or images that you have given directly to the contest coordinator.

Information on this page was extracted from the User Document portion (page 30-31) of PhotoContestPro Documention (PDF file). What you need to load images for contests has been included on the page you are already looking at.
---
---